RED Epic-M with REDmote!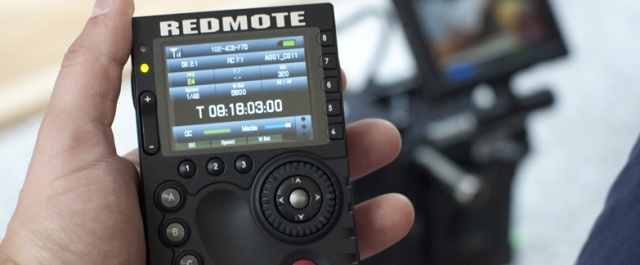 Director Josh Diamond of MBS Productions is at it again, this time adding to his camera arsenal the brand new REDmote.  On this shoot we were tabletop shooting a spot for some great new cutlery products.
Working with the EPIC is great.  There is little about it that I don't like.  The REDmote is great and a useful tool, especially when rigging the camera in precarious or difficult to reach places.  Also with the upcoming firmware upgrade I am hoping that they add some histogram action, as well as instant refresh of the item selected on the redmote's screen.
The other thing I noticed that might get bumped is that the wireless capabilities are a bit lacking, after about 12 ft from camera you have some issues with sending a signal.  In addition, if your REDmote is below the EPIC unit, you also seem to have more issues than if its on the same plane.
Right now without the item selection changing on the REDmote screen, it makes the device only useful for double checking settings and rolling.  Which is great, don't get me wrong, but for this to truly be worthwhile, this would have to be fixed!  Like I said, I am excited for the new firmware and giddy to see what other treats they add!